Progressive Environmental is an industrial water treatment company with over 40 years of experience. As an independent dealer, we are not forced to sell you a specific brand or product. Instead, we are motivated to give you personal attention by looking at your entire system and identifying any issues that are keeping your system from working as efficiently as it could by finding the technology that works best for you, your company, and your budget.

During your in-person plant visit, you receive the personal attention that has become the hallmark of Progressive Environmental. While other companies never set foot in your facility and fit your problem into the product they make or stock, we will take responsibility for your entire system. One of our skilled technicians will be on site during start up and, should an issue arise, provide professional, knowledgeable service. We are the one-stop shop for your entire water-treatment system.

ProgressiveEnviro.com brings 40 plus years of experience in designing, maintaining and servicing water and waste water treatment and filtration systems for cooling towers, boilers, heat exchangers, and irrigation systems. We offer salt-free, chemical-free technologies for the treatment of scale, solids, sediment, algae, Legionella, and bacteria. We are experienced in advanced technology treatment and filtration offering automatic self-cleaning filters and electronic descalers.

We are cutting edge in the fields of cooling tower blowdown water reclaim, wastewater reclaim, rain water harvesting and other water efficient sustainable systems and methods. We design, sell and service complete water and wastewater reclaim systems and components.

Upgrade to or install a cost saving system now. Lower your salt and chemical usage as well as provide maintenance-free filtration. Eliminate disposables and lower your carbon footprint. Let ProgressiveEnviro.com know about your project.

Use our project quote form and we will respond promptly.

ProgressiveEnviro.com - 1.800.491.5815.



Client / Project examples: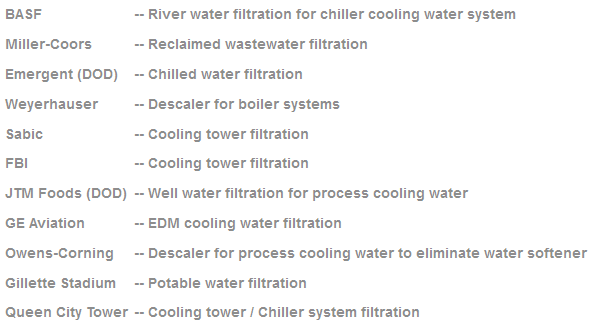 Increasing environmental regulations and increased costs have prompted many companies to recycle their use of process water, as well as decrease the chemical treatment of water and wastewater. Recycling of used process water is a popular way to minimize the discharge of harmful pollutants into the eco-system and lower costs. Progressive Environmental provides many different water and waste water treatment and filtration system solutions.