Flow Rx
ProgressiveEnviro.com's automatic self-cleaning water filters are the optimal choice for most industrial, municipal and irrigation applications. These automatic water filters are reliable, require low maintenance, have a short cleaning cycle, waste very little flush water, are easy to install in new or existing systems, and do not interrupt main flow during the backwash cycle.

HOW IT WORKS
An automatic self-cleaning screen water filter is a type of water filter which utilizes system pressure to clean itself. A rigid cylinder screen strains particles from a water source, trapping debris on the inside. This layer of buildup causes differential pressure across the inlet and outlet. A controller monitors the filter and opens a flush valve when it senses adequate differential pressure. This creates rapid flow through the internal cleaning apparatus, which vacuums buildup from the screen and expels it.
A unique characteristic of automatic self-cleaning screen filters is that the backwash cycle does not require the entire system flow to stop and reverse, as is the case for many other types of filters. Instead, a point-of-suction backwash reverses flow across the screen only directly in front of suction nozzles. This allows the cleaning mechanism to scan and clean the screen incrementally without disrupting the main flow through the filter.
Automatic self-cleaning screen filters are used in a variety of applications where continuous water flow is crucial, including industrial equipment protection, irrigation nozzle protection, and municipal water treatment.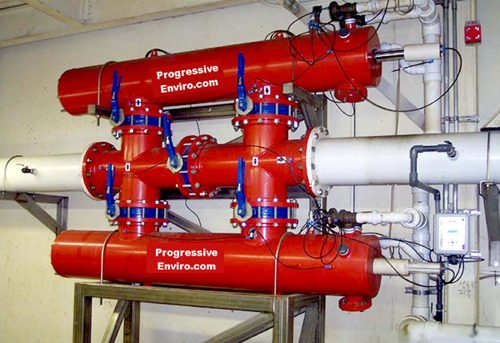 FILTER SELECTION
When making a filter selection it is important to assess the variables:
Reliability required by the system
Available equipment
Installation costs
Operating and maintenance costs
Wastewater replacement
Necessary degree of filtration
It is important to select the correct type and size of water filter. A properly designed system will be able to handle unforeseen overload and adverse conditions.